Enhanced Fire Protection Solutions - Window Sprinklers (Model WS)
Window Sprinkler (Model WS)
The use of glass as a construction element is becoming increasingly common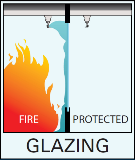 throughout the commercial built environment. Ensuring that glass can appropriately resist the effects of fire is often such a challenge that the full scope of architectural creativity is stifled. The Model WS Window Sprinklers are able to respond quickly in the case of fire, with a special spray pattern that is designed to coat the entire surface of the window with a cooling water flow. The result is a level of protection that reduces the risk of cracking or shattering due to thermal shock, minimizing the chance of fire spread, helping protect lives and property.
Highlights
Overview of WS Window Sprinklers
Explanation of the differences, advantages and design criteria
Live demonstration of Window Sprinkler spray patterns (Singapore, Dubai).
Course Information
Duration: 4 hours
Availability: Singapore, Dubai, Bangalore (India)
Target Audience: Open enrollment
Certification: Certificate of Training
To enroll in this class or find out more information, email for Singapore / Bangalore
training-apac@tycofp.com
and Dubai
training-ME@tyco-bspd.com
.
For 2020 schedule on this course and other open enrollments in the region please visit:
Training Schedule 2020 - APAC - Middle East