SprinkCAD 3D Basic Onsite Training
Introduction to SprinkCAD 3D Design Software Training
SprinkCAD offers an onsite training course to teach beginners the basic features of the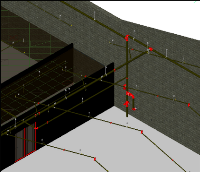 SprinkCAD 3D software. This course is presented in three days.

Course training is provided by a SprinkCAD Technician at either the customer location or one of the SprinkCAD locations.


Highlights
Introduction to Sprinkler Head layout, sprinkler pipe routing and connections, and adding Flex Pipes
Database Manipulation
Perform hydraulic calculations and material stock listing
Information
Duration: 3 Day Course
Availability: Globally (Customer Location or SprinkCAD Location)
Target Audience: Current and potential customers
Certification: 21 hours of NICET CEU's
Training Measurement Units: Imperial and Metric
To enroll in this class or find out more information, login to your account at the top of this page.